Our Products
Why choose our Plant-Based Milk?
Fully Recyclable
Our plant-based milk is not only good for you, but good for the planet too.
100% vegan
Compassion in every sip!  You can feel good about choosing a milk that is kind to animals and the planet.
GMO free
We are proud to be GMO free just the way it should be.
Nut free
No nuts, no problem! Our plant-based milk is a deliciously nut-free alternative for everyone to enjoy.
Gluten free
Say hello to our gluten-free goodness! Our plant-based milk is a smooth and creamy option for those with gluten sensitivities.
Dairy free
Our plant-based milk is nutritious and a refreshing choice for anyone seeking a delicious alternative to traditional dairy milk.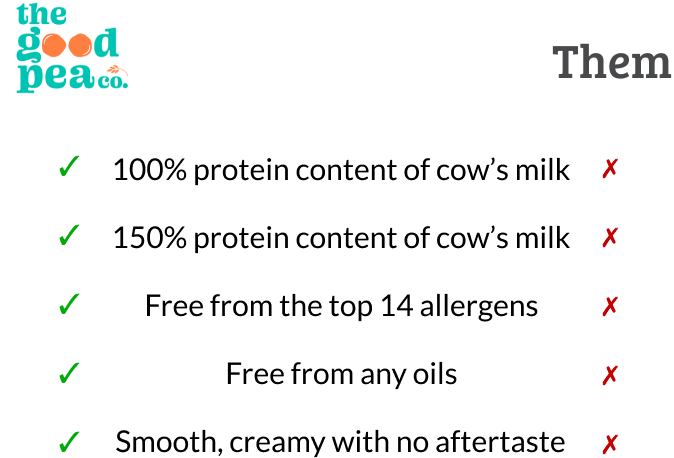 Our plant-based milk is the talk of the town! Here's what some of our happy customers have had to say:
The best plant-based milk I've had! It's delicious whether on cereal or in your tea. 
It makes the perfect replacement for normal milk in all recipes! 
The Barista is the only plant milk that tastes just like normal cow's milk. I absolutely love it! 
This froths so well for coffee and the texture is silky smooth. It doesn't have a strong taste once warmed and is also delicious in porridge bowls and hot chocolates for a really creamy recipe! 
Being a fitness trainer, I'm always on the lookout for high–protein drinks to supplement my diet and so I love to use the Original in my protein shakes. It is so delicious and creamy, and I don't even have to add a huge scoop of protein powder as I get a decent amount of protein from the milk. That's the biggest win for me! 
The best plant-based milk I've ever had. 
As an avid milk drinker this has replaced my ordinary milk as it's just that good. 
My daughter has never drank a glass of milk so quickly before! 
Who We Are
In May 2020, our Co-founders, Nikki and Su, set about on a search for tasty, dairy alternatives that would match the nutritional value of dairy products, but would also be sustainable. Nothing quite ticked all the boxes, and so they decided to create their own lip-smacking, nutritious and planet-friendly plant drink.
Find Out More
We have been awarded
We have been awarded a Bronze award for this year's Vegfest awards 2022 in the category of Best Vegan Drinks for 2022🥛
We are overwhelmed with the kind of support we have received for this.
We are immesely grateful and thank each and everyone who voted for us !
We have even more exciting news coming your way. So keep your eyes pea – led !
Find out more